RiseUp From Home reveals how Egyptian entrepreneurship ecosystem made it through COVID-19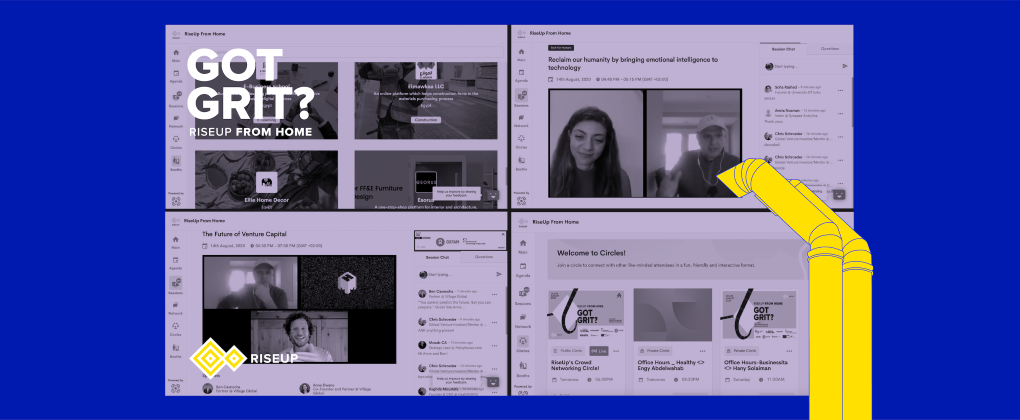 Under the banner of "Got Grit?" RiseUp from Home (RFH) wrapped up with 2000 attendees, 30 nationalities, 269 startups, 22 workshops, 47 investors, and 105 speakers over the past three days. The virtual event explored different topics relating to building entrepreneurial resilience through 100+ keynote speeches, panel discussions, workshops, and other virtual features. 
RiseUp was founded in 2013 in Egypt and quickly grew to become a grassroots movement that spread across the MENA region and beyond. It catalyzed ecosystems and connected regional startups with global resources, beginning with RiseUp Summit (an annual entrepreneurship event) and growing into a range of products and activities supporting startups and developing ecosystems throughout the year, including RiseUp Connect, RiseUp Explore, and RiseUp Meetup. This year RiseUp LLC announced its special edition conference RiseUp From Home (RFH), due to the current pandemic the world is going through.
"RiseUp from Home is testament to the innovation that emerges out of challenging circumstances. COVID-19 has tested all businesses, but I am proud of the RiseUp team for ensuring a smooth online to offline transition, organizing a highly successful event with advanced virtual features that allowed hundreds of startups to connect with customers, investors, and global experts. In our virtual Startup Expo, exhibitors customized their own Virtual Booths and interacted directly with potential clients and investors, while Startup Office Hours allowed participants to book consultancy sessions with industry experts, and Networking Circles gave people the opportunity to meet and interact, sharing ideas and resources on how to overcome current business challenges," commented RiseUp CEO Abdelhameed Sharara. 
RFH was a channel that bridged the gap between new stakeholders and the entrepreneurship ecosystem, bringing innovation to traditional markets and offering new investment opportunities to startups.
During the virtual event, Etisalat announced its collaboration with RiseUp to support entrepreneurs by sharing decades of knowledge and experience that will help them be more resilient in the face of challenges.
"It was my pleasure to participate in RiseUp from Home and be among this group of bright minds who will shape Egypt's future. Etisalat Business is always keen to support the SME and startup community through focusing on their needs and offering the best products and services that Etisalat can provide. Thus, due to the current global situation and out of our responsibility to support our local entrepreneurial ecosystem, we've collaborated with leading entrepreneurial platform RiseUp. Our collaboration will benefit & support the ecosystem through an ongoing series of webinars that we have already initiated in RiseUp From Home," commented Mohamed Zohni, SME & SOHO Business Director at Etisalat Misr.
What's App business globally
CEQUENS, a leading Egyptian Communications-Platform-as-a-Service (CPaaS) provider, and RiseUp's official communications partner, announced that it will provide Whatsapp Business globally, where companies will connect and engage with 2 billion customers worldwide, raising the level of their communications and scaling their businesses.
CEQUENS also launched its CEQUENS Chat platform, where businesses can reach and engage with their customers on their preferred messaging app, including SMS, Facebook Messenger, WhatsApp Business, Apple Chat, and Google Chat.
"I am thrilled to be announcing our new products and enterprise solutions to the world," commented Zeinab Shaker, Head of Technical Consultancy at CEQUENS. "Our focus is to accelerate digital transformation within the communications sphere, and RiseUp is a highly influential platform who shares these visions."
Banque Misr Launching the first Digital Bank in Egypt.
In a fireside chat about the future of banking in Egypt, AbdelHameed Sharara Cofounder and CEO of RiseUp and Akef ElMaghraby, Vice Chairman of Banque Misr, discussed the continued evolution of Banque Misr from a venture capital in its beginning, launching companies like Egypt Air and Misr Spinning & Weaving Co. in the twenties, and to investing in companies like Sawari Ventures, SMEs, and startups especially in light of the negative economic impact of COVID-19.
Echoing the digital shift taking place in Egypt today, Akef  ElMaghraby announced that Banque Misr is developing its infrastructure to launch its first digital bank, which is expected to replace the traditional model and accordingly is in talks with the Central Bank of Egypt (CBE). The bank is also planning to launch  a digital mobile application through which SMEs and start-ups can apply for loans without having to visit a branch.
During the fireside chat, ElMaghraby highlighted the phenomenal growth of the bank's investment in SMEs from EGP 2.5 billion 4 years ago, to EGP 36 billion today, extending their support to startups and SMEs with financial and non-financial services. He added that the bank is also providing a dedicated team to support early-stage startups, fostering bright ideas, and scaling them to successful businesses.
How Egyptian Startups Made it through COVID-19?
Instabug's CEO, Omar Gabr, discussed their standing achievements as a software company that provides bug and crash reportings, during the COVID-19 pandemic.
"It has been a good couple of years for us, with almost 120% growth in revenues recorded last year. Our software is currently running on 2.5 billion devices, with 25,000 companies using Instabug, helping them fix 700 million bugs in their applications. People staying home has increased traffic on our app to almost 80% since March, through applications like Houseparty, instacart, and 9Gag."
Gabr added, "We recently raised USD 5 million in May from Accel and Y Combinator. And our vision is to become Egypt's first Unicorn."
Mahmoud Ibraim, CEO of Homzmart, announced that from January to July 2020, Homzmart witnessed a 30x increase in monthly average number of users, and 13x growth in sales. "I am glad to share that not only were we able to increase our sales, but also enable listed sellers to increase their revenues by an average of 40% since they joined the platform up to date.''
Hatem Sallam, Partner/Chief Growth Officer at almentor.net and Hamdi Tabaa, Co-founder and CEO of Abwaab discussed the development of the edutech in the MENA region and how it supported the academic system during the pandemic.
Salaam highlighted how technology changed the education landscape in Egypt, providing access and convenience for users of different demographics, to updated educational content online. This opened a new market that is continuously growing and drawing investments, especially during these unprecedented times.
"Within the past 6 months, the number of courses attended on our platform doubled, where 42,000 professional development online courses were attended by users, and 500,000 online courses were attended by secondary school students, where they were able to study and prepare for their final exams from the comfort of their home. This was  in collaboration with the Ministry of Education in Egypt and sponsored by the National Bank of Egypt."
Moreover, Abwaab's CEO commented: "Egypt is extremely exciting for us and we are looking forward to making some massive impact over there and hopefully you will see us coming soon and we will need everyone's support to make this happen".
Submit Your News Now
Send Your Feedback