The Chief Digital Officer Trend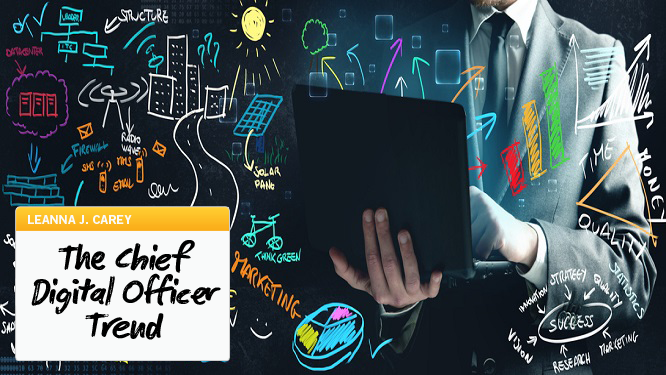 Photo Credits: DIckwingate.com
This article was first published in Innovation Excellence 
Let me begin by asking who in your company is managing the big sexy data, the omnichannel customer, or building digital products that can be monetized? I thought so, now might be the time to consider hiring a Chief Digital Officer.
The New Chief In Town – An Interview With David Mathison
I recently interviewed David Mathison on how CDO's can impact the  growth, innovation and sustainability of companies. Mathison is the curator of the Chief Digital Officer summit and founder of the CDO Club. More than 65% of global CDOs are members. He was most recently the founder and Managing Director of the Digital Media practice at Chadick Ellig, a premiere executive search consultancy named by Business Week as "one of the world's most influential headhunters." Mathison is also the author of, BE THE MEDIA, and was featured in the NY Times after he pre-sold over 5,000 copies in 11 days via his website, Twitter, and Facebook. He travels internationally to share his insights on the evolving role of Chief Digital Officers, everywhere from Columbia University to the United Nations from Amsterdam to Zagreb. Enjoy!
LeAnna J. Carey: The Chief Digital Officer community is growing. David, you have been tracking the numbers; why has this space taken off, and how many CDO's are there?
David Mathison: First of all, thank you for taking the time to interview me. To answer your first question; there has never been a better time to innovate, and this space is certainly a reflection of what is going on, with digital disrupting business across all industry sectors.
I've been tracking the Chief Digital Officer trend, and have developed a deep database of who exactly all these CDO's are; toward the end of 2011 there were 75 Chief Digital Officers on the planet, and by the end of 2012 that went up to about 300. If we stay on track for this year there should be close to 500 or 600 Chief Digital Officers — at major organizations. So, we're seeing the trend tick up quite significantly over the last two or three years. We are at a point now where it is getting exciting; entities such as Gartner, Deloitte, MIT Sloan Management Review, Capgemini, Forrester, and McKinsey are all beginning to see the same thing – that this is a growing and influential group.
LC: What should a CEO be looking for in a CDO?
DM: I like to quote Gartner; they predicted that by 2015, 25% of all organizations will have a CDO, and it will prove to be the most exciting strategic role of the decade.  There is going to be a tremendous amount of demand for this position because we are at a point where technology has become invisible – so, I would say that there are four strategic imperatives for a CEO to hire a CDO:
1. Opportunities to increase revenue.
2. Opportunities to improve the bottom line by decreasing costs. For example, music and film companies are already decreasing costs by using digital fulfillment, publishers are lowering costs by using ebook and other digital content creation and distribution.
3. Improving the ROI both on the web and mobile sites.
4. Implementing strategies to improve customer service, such as using social media like Twitter to stay in touch with customers and partners.
LC: How does a CDO differ from a Chief Marketing Officer and where are they coming from?
DM: I just finished a two and half year study of this space, and compiled it into what we're calling the Chief Digital Officer Talent Map; which looks at CDO skill sets, compensation, tenure, race, age, education, gender, etc. What is interesting is that 'technical skill' is not the fundamental skill set. Most CDO's are coming from an entrepreneurial background, they've been general managers, building businesses, with overall management experience with P & L responsibility.
There is an overlap between the marketing and the digital function, whereas the CMO continues to manage customer engagement, which includes traditional (print, broadcast, etc) plus social outreach (Facebook, Twitter, YouTube, etc); the CDO is really more focused on building a digital business through innovation, generating revenues, cutting costs, etc. For example, they are responsible for turning consumers of data on the website into actual purchasers or long-term customers. It is very important to view each sector differently – for example, Columbia or Harvard University requires different skills from a CDO than a retail outlet like Sears, or an Ad Agency like Oglivy.
CDO's are coming in from one of 2 categories; they are merged into the company through an acquisition, or they are being hired/recruited into an organization; for example, they've got a proven history of having been successful in a digital division of a company, or as a general manager. What has surprised me is how quickly these people move from CDO to CEO (in 2013, 6 CDOs became CEO), because they tend to be risk takers, entrepreneurial, with cross-sector and deep industry experience.
Gartner predicted a year ago that CDO would be the next hot executive title, and apparently their predictions are not far off the mark. However, Marketing has changed forever. The focus on growth and sustainability are here to stay. The new role of Chief Digital Officer has some big shoes to fill and they will probably succeed because of vast experience they bring to the table.
Submit Your Article Now
Send Your Feedback
EgyptInnovate site is not responsible for the content of the comments

View Egypt Innovation Map