Asana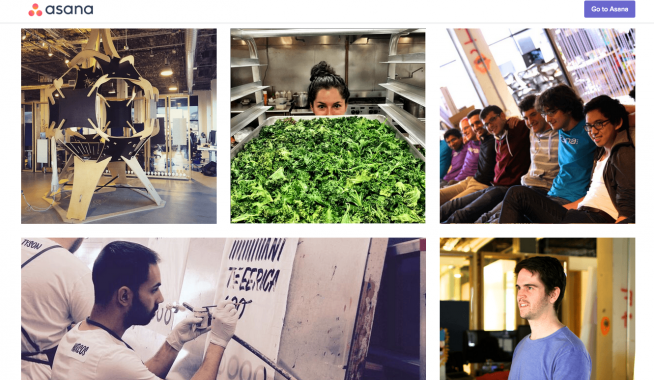 What is this?
Asana is an online task and project management tool created by Dustin Moskovitz (Facebook co-founder) and Justin Rosenstein. It is a tool to help teams plan, organize and manage their operational tasks along every project or business. Asana was first built to help coordinate between Facebook crew. Then they realized that this tool can help every team and organization to achieve their goals.
When and why is this used?
If you do not have a workplace or some of your team members work remotely, this tool was designed for you. It was also made to help team leaders monitor the work progress and help team cooperate effectively. Asana allows you to divide your project into tasks, assign them to your team members and track their progress. It helps team members to cut down on meetings and avoid back and forth emails.
How is this tool used?
Go to Asana website, enter your e-mail then you will receive a verification e-mail open the link and follow the steps bellow. You can also watch their video or download their checklist.
Step 1 (Create an account):
Sign up for a free Asana account by entering your email address, username and password.
Step 2 (Name the project then add team members):
Now name the project you are working on, for example: getting a fund for XYZ startup. Afterwards, add your team members by e-mail, make sure you enter an email, which they regularly use.
Step 3 (Add tasks and assign them to team members):
Click on Add task button to enter a new task. List the tasks then on the right side of the screen  you can assign tasks to team members and set due date. In the description, write the KPIs for this task and what are the expected outcomes and quality.
Step 4 (Additional features):
You can now see your team progress, leave comments for each other and send reminders to all team members.
Hints for using this tool
You can use Asana for free if your team has up to 15 members. For bigger teams or organizations, you will have to upgrade to a premium account that costs $10 per member every month. They also have a mobile application for android and IOS users.
Case Study
Marwan is working with the fundraising team, he wants to manage their work easily. 
1. He created his Asana account

2. He added his team members.

3. Then, he names the team as "Fundraising team"
4. He names the project they are currently working on.
5. Marwan clicks on "Add task" and starts listing the tasks that his team has to achieve.
6. He clicks on the icon next to every task in order to assign it to one of his team members.
7. He clicks on "Due Date" to set due dates or deadlines for every task.
8. On the right side of the screen, he can write a description for every task and comments for his team members.

Pros and Cons
Asana is an effective tool that helps team members work remotely with an organized clear schedule, keep you on track for long term projects. On the other hand it doesn't offer an offline access so in order to check your project tasks there has to be an internet connection.
Photo Credits: Asana
Download Attachment
Send Your Feedback