Global Innovation Summit 2021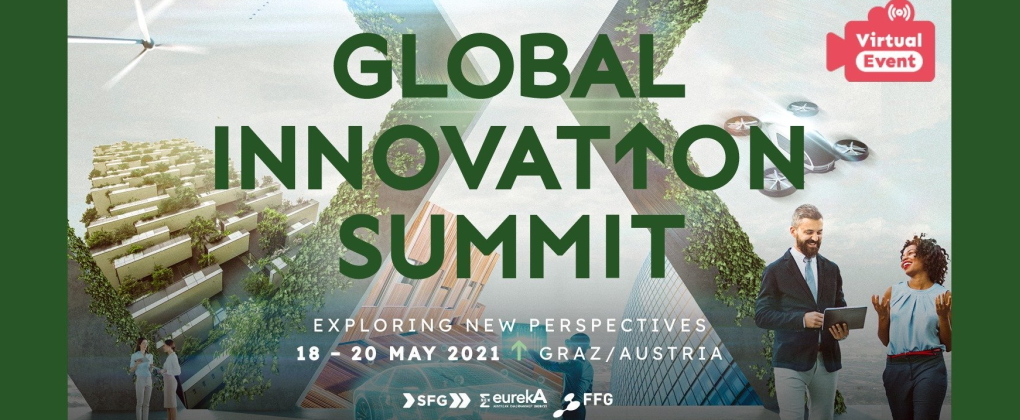 During the Austrian Eureka Chairmanship 2020-2021, the Styrian Business Promotion Agency (SFG) and the Austrian Research Promotion Agency (FFG) are joining forces to organise the "Global Innovation Summit 2021" from 18 – 20 May 2021. 
The Global Innovation Summit is an international meeting place for businesses and innovators to share and exchange knowledge, to network, to collaborate and secure future business growth opportunities. Businesses from across the globe will come together and share their distinctive insights and collaborative solutions.
You can also learn about world-wide business collaboration and funding opportunities in Eureka and Horizon Europe. International speakers will share their inspirational stories of the journey and growth of their ideas and innovations. The Global Innovation Summit with its focus on Green Transition, Digital Transformation and Post COVID will give you the chance to extend your network in your respective field of interest – all free of charge!
Green Transition
The Green Deal as an economic, ecological and social transformation process is one of the centre pieces of political discourse at both international and national levels. One objective of the summit is to support the innovative developments towards green transition and the associated importance of the role of research and innovation programmes. 
Digital Trans­formation
Digital Transformation and its impact is another priority of this year's summit. Here we seek to promote networking among innovative international SMEs and global companies from the Eureka network during a structured exchange of innovative ideas with regard to digital and sustainable development goals. 
Post COVID
The reconstruction of the economy and international cooperation after the Corona crisis will play an important role in 2021. The summit's goal is to take stock of the situation one year after the outbreak of the Corona crisis and to reflect on the resulting consequences for the European and international economic and RTI system. 
For Registration and more information about the summit: https://virt.com/event/global-innovation-summit-2021
Submit Your News Now
Send Your Feedback