Africa's Business Heroes Documentary is out, Apply to be The Next Hero
This documentary showcases the inspiring journeys of our 2019 finalists: Mahmud Johnson from Liberia, Omar Sakr from Egypt and Christelle Kwizera from Rwanda to the Grand Finale of the 'Africa's Business Heroes' competition. It tells the story of the power of entrepreneurship to create change and transformational impact. Watch now to learn their stories and to gain inspiration!
The 2020 edition of the ABH prize competition has received a tremendous level of interest and responses. To date, ABH has received 19,000 applications from candidates representing all 54 countries in Africa. Last year's inaugural edition of the competition drew nearly 10,000 applications from 50 African countries. This year, in recognition of the extraordinary circumstances facing entrepreneurs and SMEs around the world and in Africa.
ABH 2020 deadline extended
The application deadline is extending to June 22nd to provide more time for entrepreneurs to submit strong applications!
If you're an African entrepreneur creating impact and running a formally registered business based in Africa, which is three years old or more, apply now!
Please visit: africabusinessheroes.org and follow @africa_heroes on Twitter.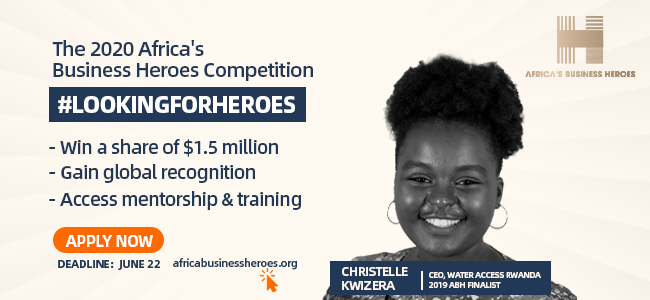 Submit Your Article Now
Send Your Feedback