ITIDA and Disrupt Africa Announce the Egyptian Startup Ecosystem Report 2021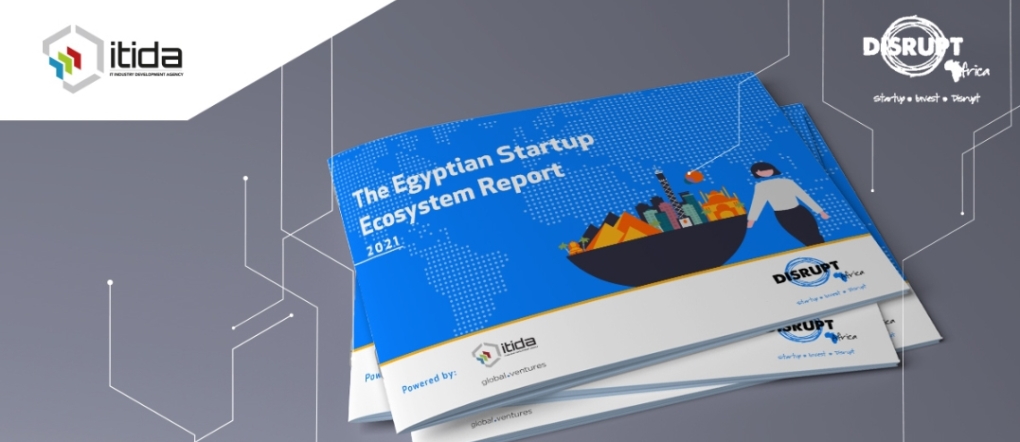 The Egyptian Startup Ecosystem Report 2021 from Disrupt Africa dives into the local ecosystem by analysing active startups, local support networks, and funding and exit activity over the last seven years, as stated by https://disrupt-africa.com/ .
Since launching its research arm in 2016, Disrupt Africa has built up a significant portfolio of publications, most notably the African Tech Startups Funding Report and Finnovating for Africa, previously available for sale but now made available free for all via open-sourcing initiatives with various partners across the continent's tech ecosystem.
The Egyptian Startup Ecosystem Report 2021 is the first geographically-focused publication released by the company, made possible by support from key partners the Information Technology Industry Development Agency (ITIDA) and Global Ventures. Other supporters of the report are AUC Venture Lab (V-Lab) and Quona Capital.
"As capital allocators, our investment decision-making process is guided by data and market insight. Yet, in the nascent ecosystem of emerging markets, information is not always readily available. We are thrilled to partner for this report on a market we are continuously and exceedingly excited about," said Basil Moftah, general partner at Global Ventures.
AUC V-Lab is partnering with ITIDA and Disrupt Africa to support the fintech section of the report, and Dr Ayman Ismail, AUC's Abdul Latif Jameel Endowed Chair of Entrepreneurship and AUC V-Lab Director, explained why.
"The fintech space in Egypt is facing unprecedented growth with innovative solutions and developing regulations. The country's vast population along with the high mobile penetration makes Egypt ripe for financial technology solutions that enhance financial inclusion and economically empower individuals," he said.
"For the past five years, AUC Venture Lab's Fintech Accelerator has been committed to enabling fintech entrepreneurs and empowering them with the knowledge and networking opportunities they really need. We are gladly supporting the fintech section of Disrupt Africa's Egyptian Startup Ecosystem Report as it offers insights for anyone looking for information about the space and its key players and the growing ecosystem at large."
The publication finds that at least 562 tech startups were in operation across Egypt as of September 2021, making it the fourth largest startup ecosystem on the continent, behind only South Africa, Nigeria and Kenya. These startups employ almost 13,000 people between them.
E-commerce is the most populated sector, with one-fifth of the country's tech startups active in that vertical. Indeed, there are almost twice as many e-commerce and retail-tech startups as there are fintech ones, which came in second. Startups are active across a diverse array of spaces, with e-health, ed-tech, logistics, recruitment and AI/IoT also especially busy.
Almost 40 per cent of Egyptian tech startups have undergone some form of acceleration or incubation, an impressive statistic and one that speaks favourably to a local support ecosystem that also incorporates government, corporates and universities.
Increasingly, these startups are also supported by a strong investment ecosystem. At least 318 Egyptian startups have raised almost US$800 million since 2015, according to the report, and capital inflow into the ecosystem has been growing year-on-year. The US$156,248,000 raised in 2020 represents a 1,716 per cent increase on the US$8.6 million banked in 2015, and 2021 looks set to shatter all records. So far, more than 80 Egyptian startups have secured more than US$400 million between them this year.
The publication includes:
Analysis of the spread and growth of Egyptian ventures;
Discussion of startup activity in 10 sectors of the local tech industry;
Data on startup launches by year;
Tracking of funding and acquisitions;
Analysis of Egyptian tech startups expanding into Sub-Saharan Africa;
A detailed list of the 562 Egyptian startups tracked by the report.
You can download your free copy here.
Submit Your News Now
Send Your Feedback