Naguib Sawiris invests in Shaghalni.com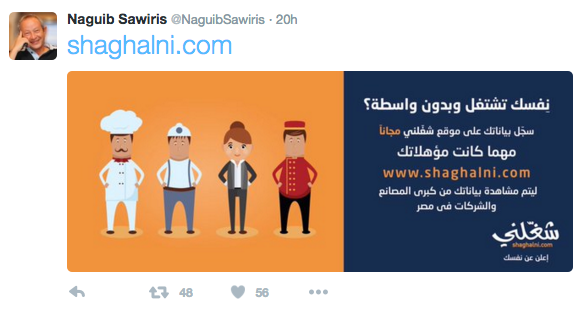 Egyptian businessman Naguib Sawiris has announced investing in Egypt's online recruitment platform Shaghalni.com. Sawiris explained that he made this move to fight unemployment in Egypt. Additionally, Shaghalni's CEO Omar Khalifa briefed the news on his Facebook page, he said "If I tell you how many times this idea got rejected you won't believe me. Until I got 7 minutes to pitch the idea to one of the most successful businessmen in the world, and he believes in it; for the sole reason of fighting unemployment and supporting Egypt."
Shaghalni.com is an online recruitment platform that seeks to connect between workers and employers. The platform focuses on technical and craft jobs such as drivers, technicians and labourers. Shaghalni has provided 5,000 vacancies and aim to increase this number to 50,000 vacancies in the coming year.
Submit Your News Now
Send Your Feedback