You are here
free webinar! Multiple Perspectives on articulating the value of Design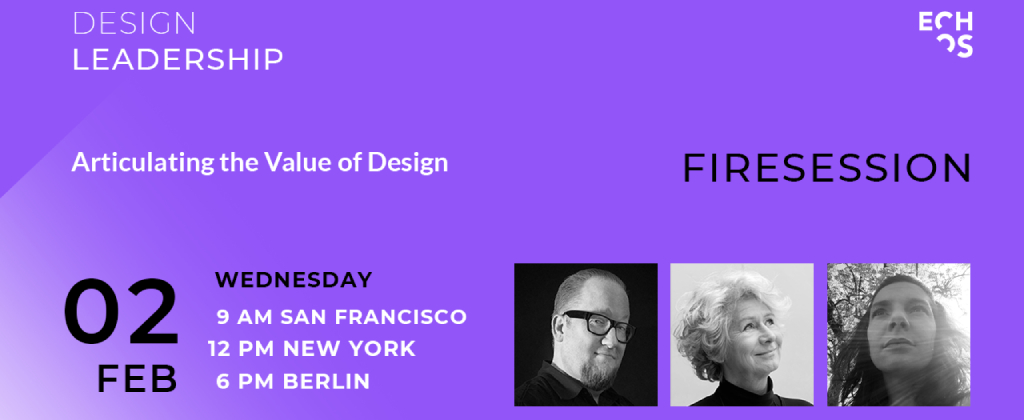 Event Type
Pitching / mentoring / investment days
City
Objectives
do you know how to articulate the value of Design in your organisation?
This is a task to design leaders. And to play a leadership role, designers need to understand the organisation in a profound way and bring the design in as an opportunity.  
We are going to debate the Value of Design in a free webinar, on february 2nd. This firesession is part of a series of events to warm up the conversation about design leadership in our community. 
Subscribe HERE for free and let's discuss this together.
Know more about panellists:
 
Birgit Mager 
Birgit Mager is the Co-Founder and President of the International Service Design Network (SDN), the leading non-profit organisation committed to global growth & innovation within the practice of Service Design. She is also a professor of Service Design at the Köln International School of Design, a university institute offering its students the opportunity to create and to explore the complexity of design in a diverse and systematic manner. Apart from working with the SDN, Birgit always tries to bring the service design perspective into systems. She currently serves on multiple editorial boards, as external examiner and in juries.
 
Stephen Gates
Stephen is a global design leader, who builds world-class organizations that integrate research, data, and behavioral science with human-centered design methods to drive a long-term vision and near-term business impact. As a leader for 15+ years, he has a proven record of founding, building, and leading world-class agency and client-side design, UX, strategy, research, operations, and design systems teams. He combine those skills with the presentation, business, and political skills to find unique insights, build trust with consumers, drive revenue, and meet business goals. His work has been recognized with 150+ design awards, including Cannes Cyber Lions, Webby Awards, Web Awards, and others.
 
Lunna Pigatto
Lunna is a multidisciplinary designer, centering humans and nature in the core of each project she is involved in. Lunna is graduated in Social Communications & Marketing and owns a Master in Design Strategy. She works to develop impactful solutions that deliver value for a better future, wrap them in a creative communication strategy, and make life more meaningful.
Interested in participating? click here
Cost
Add To Your Calendar
Send Your Feedback
EgyptInnovate site is not responsible for the content of the comments

View Egypt Innovation Map