Icealex Graduating 14 Female Led Startups from "Ladies Startups League"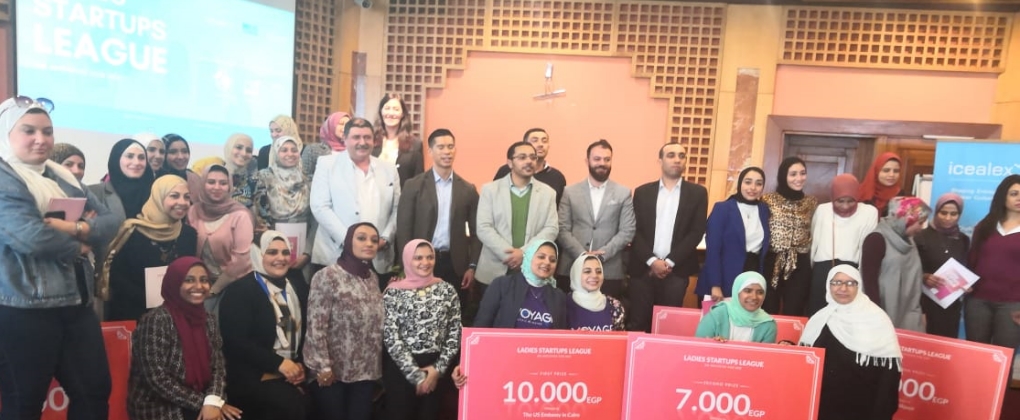 As a leading role of Icealex company in promoting and enhancing the entrepreneurship and innovation ecosystem as well as building impact-driven ventures in Alexandria, Through bootcamps, retreats, mentoring and consultation designed modules aimed to be a qualifying stage to the incubation program with the participation of 56 promising females in several three sectors creative industries, education, and environment.
As Icealex is the owner of the first business incubator in Alexandria launched in 2016, which is Startups of Alex. i*lead as well is a women-led initiative powered by Icealex, which aims at enabling ecosystem for female entrepreneurs through a set of various services and facilities e.g. dedicated entrepreneurship training programs, peer-to-peer mentoring and on-the-job support. Icealex celebrated International Women's Day with the closure of the pre-incubation program "Ladies Startups League", which aims to incubate women entrepreneurs and owners of startups, provide them with all aspects of technical, consultative and legal support for them and help women to build their capabilities and turn their ideas into a real business that contributes to creating job opportunities and even contributing to solving societal problems in an innovative way. This cycle focused on three important sectors: education, environment and creative industries.
The ceremony was held in the Bibliotheca of Alexandria, where14 startups presented their projects in front of Eng. Ahmed Bastawy, Managing Director at IceAlex, Mr. Mike Harker Public Diplomacy Officer at US Embassy Cairo, a number of investors and public figures interested in entrepreneurship. Monetary prizes distributed to startups in the three sectors, which were chosen by the jury during the celebration. Voyage, Velatura, and Tawleafa won the first place with prize 10.000 L.E offered by The US Embassy in Cairo for each startup, while Farasha, Mesh Plastic, Agab Studio won second place with a prize of 7.000 L.E offered by Start Egypt Program for each startup.
Perhaps it is worth noting that Ladies Startups League is brought to you by Icealex and i*lead the initiative, sponsored by The US Embassy in Cairo and in cooperation with local partners as Bibliotheca Alexandrina and Start Egypt Program, Entrepreneurship Center at Arab Academy for Science Technology & Maritime Transport, Youthinkgreen Egypt and Edventures Incubator.
Submit Your News Now
Send Your Feedback