African Innovators are Invited to Participate in the African Innovation Challenge 2020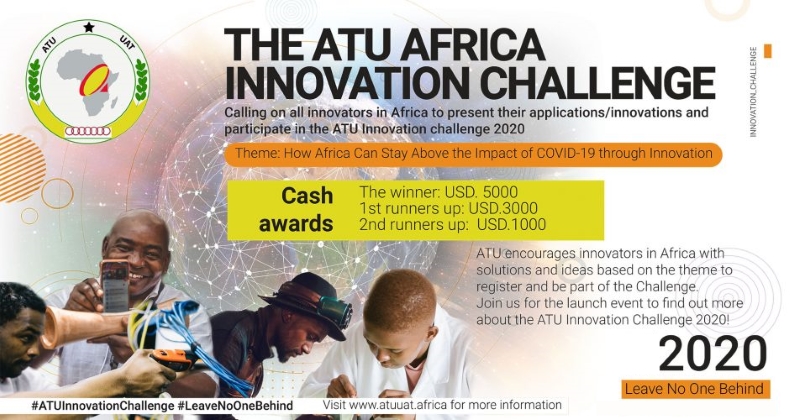 Under the theme 'How Africa Can Stay above the Impact of COVID-19 through Innovation", Egypt, represented by the Ministry of Communications and Information Technology (MCIT), participated in the launch of Africa Innovation Challenge 2020. The challenge is organized by the Africa Telecommunication Union (ATU) to recognize the disruptive innovations and new business models that have the capacity to change Africa.
The Africa Innovation Challenge is a call for African innovators to submit their applications/innovations designed with the ability to respond to societal issues, and in particular, offer unique solutions to Africa during the COVID-19 pandemic period. Covid-19 affected many African communities in various ways, and in consideration of the fact that a large population of Africans is generally living in difficult conditions, the ability for countries' readiness for digital solutions, could significantly help address some of these challenges.
The contestants for the ATU Innovation Challenge 2020 will be drawn from all African countries with membership to ATU, to compete at a regional level during the 1st phase of the competition. The best from each region will then compete at the continental level during the last and final phase of the competition. The competition runs from 20th August 2020 to 14th October 2020.
Who can participate?
Born in/after the year1985.
Has the citizenship of an African country that is a member of the African Telecommunications Union.
The owner of applications/innovations designed with the ability to respond to societal issues, this innovation should have the capacity to transcend COVID-19 and retain applicability in other emergencies situations.
All submissions must be the participant's own work and each participant can submit one entry only.
Employees of ATU, ICT Regulatory Bodies and Associate Members cannot take part in the Challenge
All winning participants must agree to the subsequent use of their submitted entries for non-profit reference and promotional use only on ATU and partner communications and engagements.
All the submissions will be judged by a panel of judges according to the set guidelines, the theme of the competition, novelty/ originality of the entry as well as the pragmatic promise of the entry. The regional review of submission will be finished on 25 September 2020, the 2nd and final review and selection of the winners will end on 5 October 2020, and the Africa Innovation Challenge Award Ceremony will be on 14 October 2020.
In terms of prizes; the winner will get five thousand USD, the 1st runners up three thousand USD, and the 2nd runners up one thousand USD. All participants who will not emerge as winners but make it to the 2nd and final phase of the competition will be awarded one hundred USD each.
---
Register here before 14th September 2020:
https://www.atuuat.africa/africa-innovation-challenge-2020/#registration
---
Submit Your News Now
Send Your Feedback