50 Egyptian Entrepreneurs invited to join the Africa-France 2020 Summit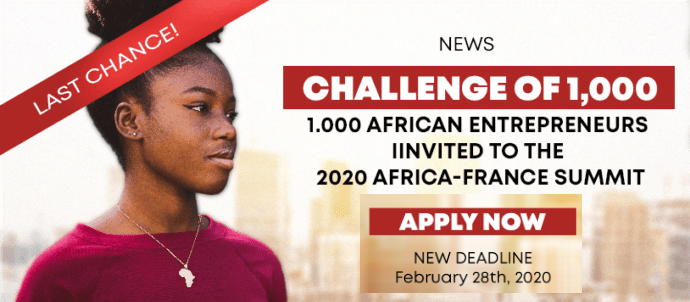 Are you ready to build the future of Sustainable Cities in Africa? France is inviting 1000 African entrepreneurs to attend the Africa-France 2020 Summit on sustainable cities and regions, organised in Bordeaux on 4,5 and 6 June 2020.
50 selected young Egyptian entrepreneurs will get the opportunity to travel to France and freely access the City of Solutions, an international trade fair dedicated to sustainable urban development. The event will gather high-level decision-makers, 500+ companies (large and small) as well as financial institutions and international donors. This initiative is an opportunity for promising innovative ideas and projects developed by Egyptian entrepreneurs to meet potential new partners, grow their solutions in Egypt and, who knows, ultimately expand their business in other African countries.
Submit your application by registering on the Digital Africa platform, Applications are open until: 28 February 2020.
7 districts, divided by theme, to create the city of the future together
Access to essential services.
Feed the cities.
Plan and beautify the city.
Move around the city / visit the city.
To live in town
Financing and structuring of projects.
Connect the city.
To submit your application and for more information, visit the Digital Africa website: What is the 1000 challenge?
Submit Your News Now
Send Your Feedback