You are here
Sign up to learn "How to win the hearts of your investors and customers"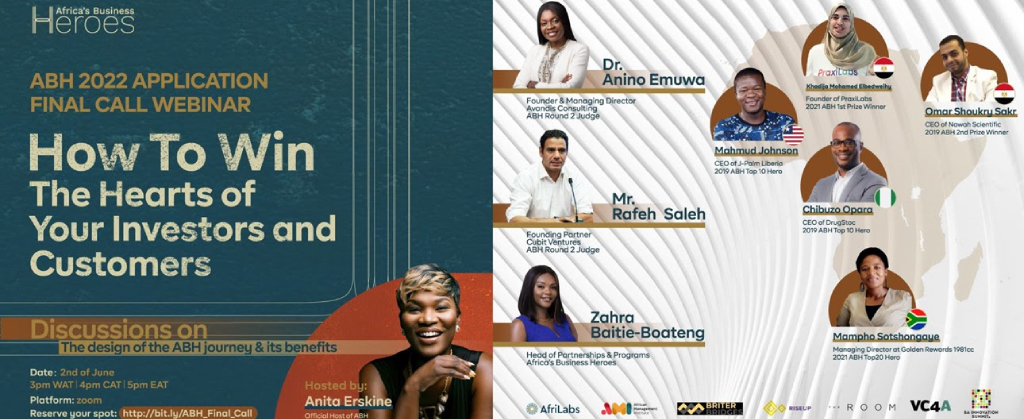 Event Type
Pitching / mentoring / investment days
City
Event Details
Sign up for the Africa's Business Heroes Application Final Call Webinar next week!
The clock is ticking, and the deadline is approaching!
This session will provide insight into the ABH application form and ABH journey, including some expert advice on how to ace your application. We will also showcase some of the carefully curated opportunities are partners are offering YOU, our ABH Community.
At the end of the session, we will host a series of breakout rooms. You will be able to ask us any questions you have on your application, as well as network with fellow entrepreneurs!
*This online meeting supports simultaneous interpretation in French and Arabic.
AGENDA HIGHLIGHTS:
How to tell your story
 

Anita Erskine 
ABH Official Host
The design of the ABH Journey
Dr Anino Emuwa 
Founder & MD, Avandis Consulting (Round 2 Judge)

Rafeh Saleh 
Founding Partner, Cubit Venture (Round 2 Judge)

Omar Sakr
Founder & CEO, Nawah Scientific (2019 2nd Place)

Mahmud Johnson
Founder & CEO, J-Palm (2019 Top 10)

Zahra Baitie-Boateng 
Partnership & Program Manager, ABH

ABH Training Opportunities
Buntu Majaja
CEO, SA Innovation Summit

Kaitlyn Swist
Senior Director of Global Community Operations, The Room

Mathilde Schmidt-Rhen
Community & Programs Manager, VC4A

Naomi Kirungu
Marketing Manager (Community & Customer Growth), AMI

The benefits of the ABH Journey
Khadija ElBedweihy
Co-founder & CEO, PraxiLabs (2021 1st place)

Chibuzo Opara 
Co-founder & CEO, DrugStoc (2019 Top 10)

Mampho Sotshongaye
Founder & MD, Golder Rewards (2021 Top 20)

Breakout Room Networking
Application Support

Agriculture Moderated by Mahmud Johnson
ICT Moderated by Omar Sakr
Manufacturing & Energy Moderated by Mampho Sotshongaye
Healthcare Moderated by Chibuzo Opara
Education & Training Moderated by Khadija ElBedweihy
Food & Beverage Moderated by Tahira Moosa
Other Sectors/General Inquiries by Zahra Baitie-Boateng
Register now by following this link
Once you have registered, don't forget to add the event to your calendar from the registration page. You don't want to miss this one!
Finally, remember applications close on June 6th 2022! Log back in to your application and make progress today at:
Login Here
Review the questions you're stuck on and bring them with you to the final call webinar - we'll be happy to assist you with them!
Cost
Add To Your Calendar
Send Your Feedback
EgyptInnovate site is not responsible for the content of the comments

View Egypt Innovation Map