You are here
Regional Innovation Forum for Europe 2021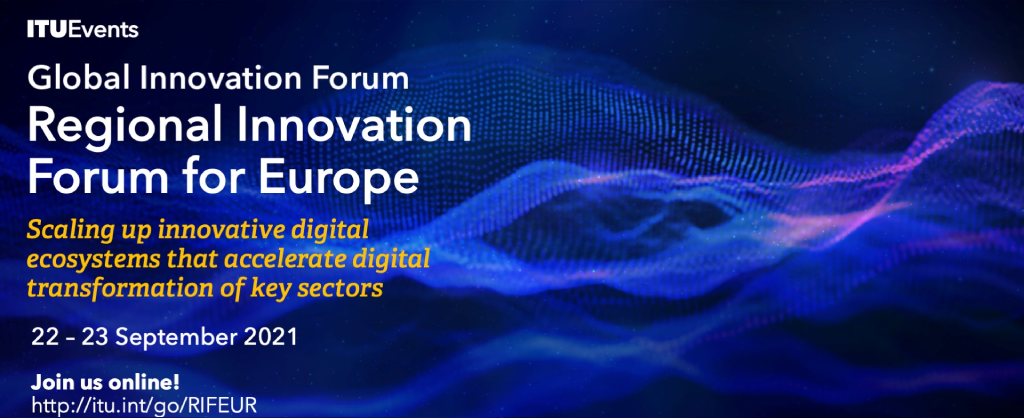 22
Sep 2021
To
23
Sep 2021
City
Event Details
The Regional Innovation Forum ​for Europe, o​organized within the framework of the 2021 ITU Global Innovation Forum, will take place virtually from 22 to 23 September 2021. It is organized with the support of the Ministry of Information Society and Administration​ of the Republic of North Macedonia.
This edition of the ITU Regional Innovation Forum for Europe 2021 will bring together regional stakeholders to share insights and offer much-needed opportunities for leaders and innovators across sectors to pioneer new approaches, share best practices and adopt new solutions across industries and markets. The forum will cover three main areas: the general digital innovation ecosystem, the agricultural digital ecosystem and the ICT accessibility ecosystem.
Register Here to participate.
Audience
. This forum targets all stakeholders involved in nurturing digital innovation, with a particular emphasis on the stakeholders in the sectors facing the biggest opportunities and challenges in the time of the COVID-19 pandemic, such as tourism, commerce, digital inclusion, digital health, online learning, public services and digital agriculture.
 
Objectives
This forum will nurture cross-community engagement with ideas and actions that will shape the future of digital transformation in the region. Furthermore, the sessions are designed to foster interaction, facilitate practice sharing, and discover innovative solutions and approaches that can equip stakeholders with knowledge and tools to navigate digital transformation in the age of pandemic. This forum also seeks to promote the "One United Nations" collaboration at the regional level.​​​
Cost
Add To Your Calendar
Send Your Feedback
EgyptInnovate site is not responsible for the content of the comments

View Egypt Innovation Map