You are here
5 days only to apply for CODING4INTEGRITY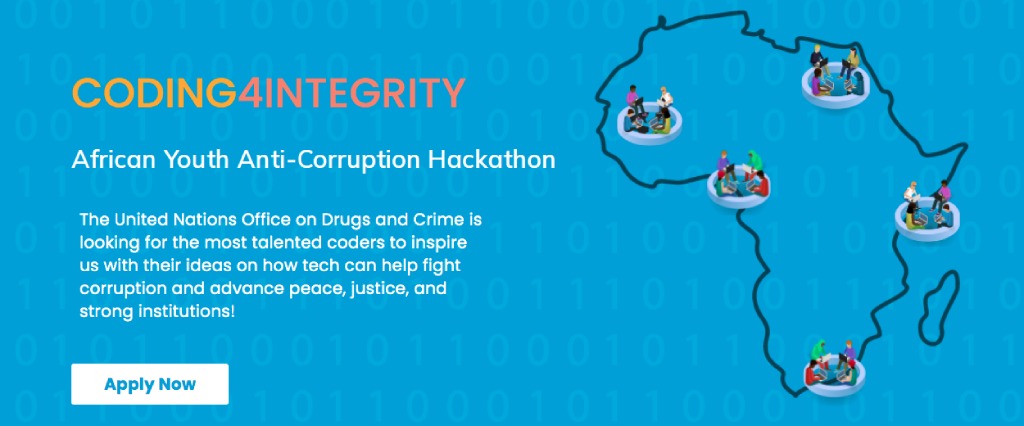 04
Oct 2021
To
01
Nov 2021
City
Event Details
The African Youth Anti-Corruption Hackathon is a virtual 4 week technology challenge organized by the United Nations Office on Drugs and Crime (UNODC) in partnership with private and public sector organizations in five African countries, namely Egypt, Kenya, Nigeria, Senegal and South Africa. The Objectives of the hackathon are to promote the use of information and communications technologies (ICT) to prevent and combat corruption in Africa and to give young developers the chance to come up with their own ideas on how to counter corruption through technologies. The challenge will also promote the implementation of the United Nations Convention Against Corruption (UNCAC) by enhancing public-private partnerships in the development of sustainable ICT-based anti-corruption solutions; youth engagement and employment; innovation and technology. The winning teams will have the opportunity to further develop their technology solutions with the support of the public sector partners of the hackathon that seek to increase the use of ICT solutions as part of their domestic anti-corruption efforts.
Thematic Areas
The hackathon participants will be challenged to develop an ICT-based idea or solution that address one or more of the following themes:
Transparency in public administration, for instance, non-cash-based payments and traceability.
Transparency in public procurement and the administration of public finances.
Safe and reliable reporting of corruption (whistle-blowing promotion and protection).
Financial investigation solutions.
Other areas relevant to UNCAC.
Who can apply?
The hackathon is open to young creative people who:
Are between the age of 18 and 35
Have basic coding skills and some experience with one or more development technologies
Are nationals of Egypt, Kenya, Nigeria, Senegal, and South Africa
Have knowledge of Java, Javascript, C++, Python
Are proficient in English
Are passionate about using their tech skills to design digitally innovative solutions to promote integrity and tackle corruption in their countries.
Female candidates are particularly encouraged to apply for the hackathon
For More information and registration: Here.
Cost
Add To Your Calendar
Send Your Feedback
EgyptInnovate site is not responsible for the content of the comments

View Egypt Innovation Map