Book: HACK THE ENTREPRENEUR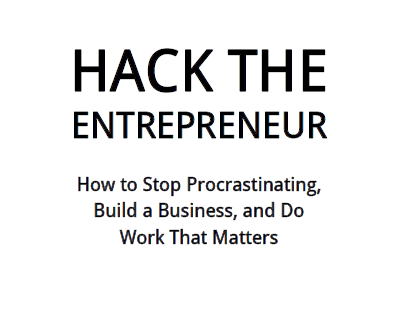 HACK THE ENTREPRENEUR; How to Stop Procrastinating, Build a Business, and Do Work That Matters is not a book of business tactics or strategies that will become useless in a few months as new technologies emerge. You will not learn how to set up a website or how to source products overseas. You will not be shown new management philosophies or how to become an expert in social media.
This book was written to develop you, the entrepreneur. It will introduce you to brilliant entrepreneurs that can teach you great things.
This book contains brilliant business insights from the founders of companies with hundreds of employees and $100 million in revenue, but also from founders that run highly profitable businesses from their laptops as they nomadically travel the world, looking for adventure. Both groups are extremely successful, and both will teach you how business is run under the new rules.
Do not underestimate what you, your laptop, a good Wi-Fi connection, and some hard work can accomplish. These are the new rules of business. Get used to it, or keep your day job.
Download your free copy via this link.
Submit Your Article Now
Send Your Feedback
EgyptInnovate site is not responsible for the content of the comments

View Egypt Innovation Map